ROVS FOR Hire and CHARTER,
ROVs are an excellent tool for underwater inspection, designed for accessing awkward and inaccessible areas to clearly reveal damage or defects. Our small eyeball/inspection ROVs have vertical and horizontal thrusters, are neutrally buoyant, and have excellent manoeuvrability. These small ROVs are tethered, and can operate at a depth of 100 metres (or deeper), providing excellent colour video that can be recorded and kept for future reference.
Our small eyeballs ROVs are suitable for all underwater inspections in fresh water or seawater. They offer numerous applications, for example: damage inspection for insurance companies, environmental, insurance, pre-disturbance archaeological surveys and assessments, wreck survey, search, salvage and recovery, water tank inspections, pipeline inspection, reservoir inspection, harbour survey, ship hull inspection clearance and recovery, dock gate inspections, piling inspection, offshore structures survey, bridge inspection and many aspects of police search, location, underwater security and recoveries, diver support and underwater film production. Communication between the ROV (underwater) and the surface operator is through the umbilical that provides a real time flow of information including video footage.

These small ROVs offer the most effective, safest and economical way to carry out subsea inspection work. Available for rapid mobilization and deployment. with minimal operating space being needed. Mobilisation can be by road or sea. Operational from shore/jetty, from a vehicle, or small support vessel/work boat.

An ROV is effectively an underwater robot that can be used for inspections, recoveries, cable burial, search and rescue and much more. More business sectors are realising their benefits, and ROVs are now used in oceanography, fishing, civil engineering and security. An ROV offers a quick and safe inspection solution, which removes the risks of other inspection methods and can save time and money. Ideal for Harbour Authorities, inshore and offshore applications

We have a wide selection of ROVs available on rental or contract options.
TITAN COMMANDO ROV for Hire and Charter.
This ROV is a mobile underwater camera system, controlled from the surface and capable of staying submerged indefinitely. The ROV is suited to a variety of subsea applications including pipeline inspections, river and ocean searches, dam and tunnel surveys, oil and gas platform work, fish farming, homeland security operations, and underwater recreation. The ROV will dramatically reduce underwater search time, as well as the risk and high cost often associated with diving operations. With suitable sensors fitted, the ROV is capable of locating weapons, unexploded ordnance, pipelines, buried treasure, and other metal objects that may be underwater.
The Titan Commando ROV is an inspection ROV made from an aluminium body with a stainless steel protection frame. 600ft Kevlar umbilical cable. Control box. Three thrusters. Tungsten Halogen lights. Super wide-angle camera. Camera tilt function up/down. Camera lock. Sonar system (option). The unit is packed in three carry cases, (ROV, umbilical, and equipment).
The Titan ROV is ideal for underwater surveys and inspections, search and rescue, security and recreation, homeland security, harbour and ship security operations. Easily deployed from a small workboat, or a surface platform, by a one or two-man crew. These ROVs have been used around the world from Scandinavia to the Caribbean Sea.
Dive ready and tested.
ROV shipping boxes (inches)
26 x 24 x 20 (134 lbs). Rov and controller
27 x 21 x 11 (57 lbs). Spare equipment case.
24 x 15 x 24 (138 lbs). Umbilical and hand winch.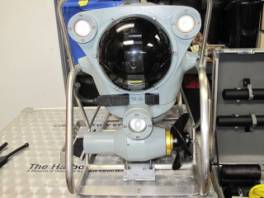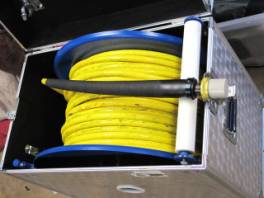 Cougar ROV for Hie and Charter.
Cougar Compact ROV System – 300m depth rated.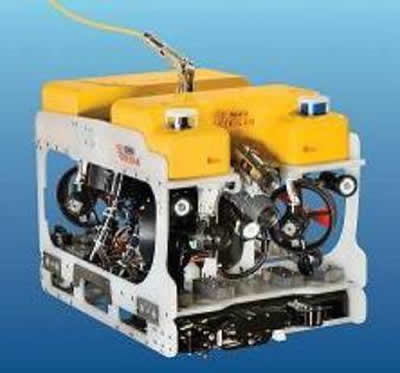 Our Cougar ROV (remotely operated vehicle) is configured to be a compact free-swimming offshore ROV system. It comes complete with A60 Zone 2 control container. and A60 Zone 2 gravity based crane LARS (launch & recovery system). The ROV is ideal for close and general visual inspections of client subsea assets and construction support.
Maximum operating depth: 300 metres
3 simultaneous video channels, option to fit 4 cameras
Kongsberg Colour Zoom / Focus Camera
Kongsberg Lowlight Black and white camera
80 Kg payload
4 Vectored and two vertical Seaeye SM7M thrusters with velocity feedback
Tritech Super Seaprince DST Sonar
1200 watts of variable intensity LED lighting positioned on the camera tilt platform and chassis
Integral video overlay
Zone 2 Control Container
Zone 2 Gravity based crane mounted Launch and Recovery System (LARS)
Length 1300 mm, Height 785 mm. 900 mm (with tooling skid), Width 915 mm.
Thrust Fwd 170 kg, Thrust Lateral 120 kg, Thrust Vertical 110 kg.
Weight 300 kg without tooling skid
Payload 80 kg
SeaEye Falcon ROV for Hire and Charter.
Falcon Pus ROV System – 1000m depth rated.
The Falcon Plus is configured to be a free swimming offshore ROV (remotely operated vehicle). The system comes complete with control container and crane mounted LARS (launch & recovery system). The Falcon Plus incorporates subsea and surface fibre optic multiplexers and an umbilical for the transmission of both video and data over fibre optics between the surface and the vehicle.
Specifications of the Falcon DR ROV:
Video Overlay includes as standard
Compass Heading
Depth in metres or feet
Camera tilt platform position
Auto function status
CP reading (optional)
Odometer Count (optional)
Date and Time
Facility to export data to survey
Length 1000 mm, Height 780 mm, Width 600 mm.
Thrust Fwd 96 kg, Thrust Lateral 56 kg, Thrust Vertical 12.
Weight 130kg
Payload 15 kg
ROV comes complete with
1 x Super Seaprince sonar
1 x Colour camera
1 x Lowlight monochrome camera
3 x 75 Lamps (Additional lamp on request)
8 x MCT 1 Horizontal Thrusters
1 x MCT 1 Vertical Thruster
1 x Remote spares package
Safe area control container
Safe area electric winch with crane on LARS skid.
OTHER ROVS AVAILABLE FOR SALE AND CHARTER, DEPENDING ON AVAILABILITY. PLEASE CONTACT US TO DISCUSS YOUR REQUIREMENTS.
Contact us:
SILVERCREST SUBMARINES.
email: sales@SilvercrestSubmarines.com
Please select a link from the list below to view other submarine and submersible websites as recommended by Silvercrest Submarines.
You can also send us an email and request contact details for other subsea companies and subsea equipment manufacturers.
We are always happy to help and offer advice.