SUBMARINES, SUBMERSIBLES, T-SUBS, ROVs for SALE and CHARTER.
Thank you for contacting Silvercrest, concerning your submersible requirement. We will be pleased to offer every assistance that you may require, in order to help with your planned underwater project. We can offer for sale a wide range of Rovs, manned submarines, and submersibles. Used submarines, Used T-Subs, Used Submersibles, and New Submarines.
If you wish to charter a submarine, manned submersible, ROV, for your project, please contact us for a discussion.
Should the selection shown below, not match your exact requirement, please contact us to discuss other submarines, submersibles and Rovs that are presently available but not listed.
NEW, SECONDHAND, and USED SUBMARINES, MANNED SUBMERSIBLES. T-Subs (Tourist Submarines), PERSONAL SUBMARINES, MINI SUBMARINES (MINI SUBS), PRIVATE SUBMARINES and ROVs (for SALE and CHARTER). SEMI-SUBMERSIBLES, SMALL SEMI-SUBS. UNDERWATER SCOOTERS. SDV'S. DSRV'S.
Please click on a button below to view the information relating to new and used submarines, submersibles and Rovs that we have for sale.
T-SUB. (24-PASSENGER TOURIST SUBMARINE).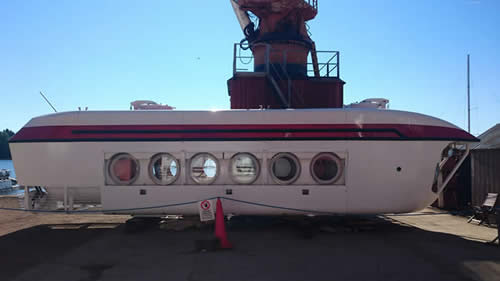 New 26-man T-SUB immediately available for sale.
PILOT / CREW TRAINING PROVIDED ON-SITE AT YOUR OWN TOURIST RESORT.
Twenty four passenger, two crew tourist submarine, designed for the underwater leisure market.
Operating Depth: 300ft (100m). Weight: 35 tons. Crew: Two pilots and twenty-four passengers.
Large viewports on all sides. Air conditioning, external lights, communications, and video.
Available Services :
Delivery direct to your Tourist Resort. Training Programme for your crew on site. Long term maintenance and logistic support. Experienced pilot/engineers available to start up your new tourist submarine operation.
CALL US TODAY TO DISCUSS THIS EXCELLENT OPPORTUNITY.
Recently completely rebuilt Tourist Submarine (T-sub) now available for sale.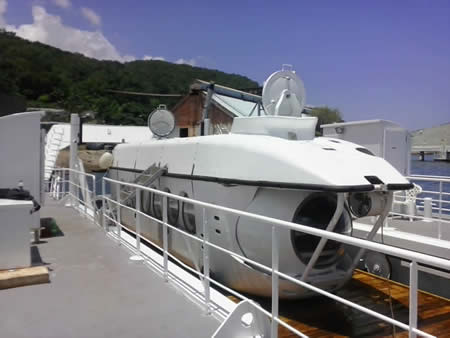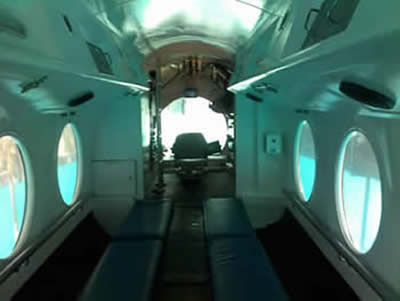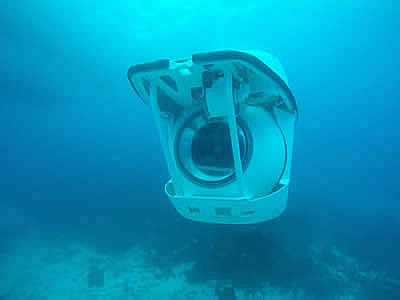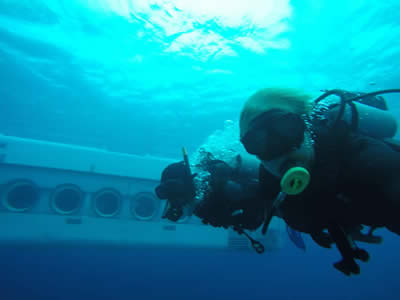 UNDERWATER BAR / RESTAURANT (For Sale).
(Immediately available for your tourist resort or luxury yacht, with your choice of internal and external design and colour schemes).
The Underwater Bar can be shipped to your tourist resort approximately four months from order. A range of interior layouts, colour schemes, and external graphics are available. External branding and logos can be provided to support marketing and sponsor programmes.

The Underwater Bar will allow up to twelve guests and two crew members to view the underwater world in complete comfort and safety. The complex provides a unique setting, and relaxed atmosphere, for guests to relax below the surface of the sea. This complex has a maximum diving depth of 100m (300 feet), and provides a panoramic view of the underwater world through large diameter viewports.
The Underwater Bar / Restaurant can be offered with a wide choice of interior and exterior designs, coporate logos, and colour schemes.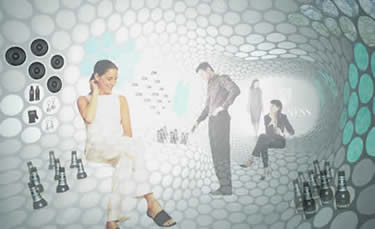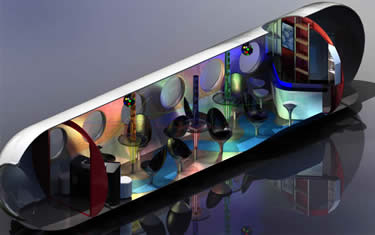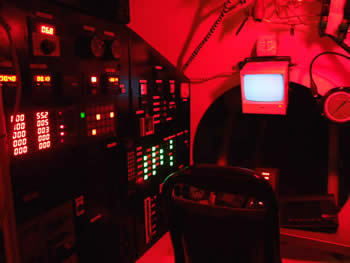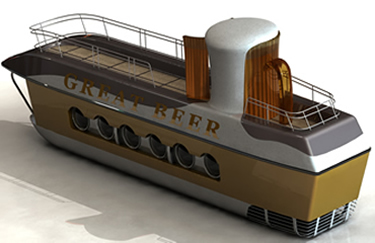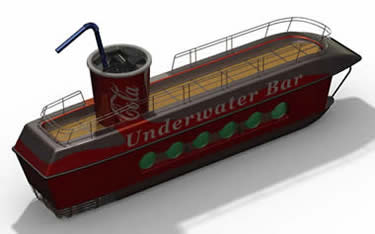 Similar to existing tourist subsea technology, the Underwater Bar has been constructed with a large passenger-viewing gallery, large viewports and luxury seating. A cocktail bar provides food and refreshments to the guests during their dive. Powerful underwater lights outside the complex illuminate the seabed during night operations. While subsea cameras record the activities of the marine life, and screen the pictures onto an internal monitor for everyone to watch. The Underwater Bar is controlled from an operator control station, situated in the forward section of the main viewing gallery. From this position the crew are able to control all the main operations and equipment of the complex, and dive or surface as necessary. The normal crew size onboard the Underwater Bar will be two (one operator and one hostess).
Deep Sea Guinness Bar dives under the Baltic Sea.
Dublin, Ireland – Once-in-a lifetime trip for Belgian winner in world's first Guinness Deep Sea Bar. In a global first, a lucky Belgian competition winner has travelled into the depths of the black stuff in the first ever Guinness Deep Sea Bar. Evelyne Gridelet, 30, of Seraing, Belgium, won the incredible trip in the futuristic custom-built Guinness Underwater Bar as part of the Guinness Experiences competition, held during the global Guinness 250 celebrations.

Along with her husband, Arnaud Splendore and sister, Virginie Gridelet, Evelyne was flown to Sweden for an unforgettable four-day trip to explore the remote islands of the Stockholm Archipelago. Set against a winter wonderland, the highlight of their adventure, which took place during the last week of January 2010, was travelling to the bottom of the Baltic Sea in the GUINNESS DEEP SEA BAR that was modified exclusively for the trip by Silvercrest Submarines.

Evelyne said, "This has been an unbelievable trip of a lifetime! Winning the Guinness Sea Experience has given me the chance to do something totally unique and unforgettable, and I think I'm the first person ever to enjoy a cold glass of Guinness on the ocean floor!"

To enter the Deep Sea Bar, Evelyne and her guests had to face a snow blizzard and temperatures of minus 15°C, as they walked out across the frozen surface of the Baltic Sea. Earlier in the day an icebreaker cleared a path for the voyage under the sea. Once inside the Deep Sea Bar, the winners dived to the bottom of the sea experiencing spectacular views of the underwater landscape below the ice-cap while enjoying a glass of Guinness in this most unique of locations.

The Guinness Sea Experience was one of three remarkable prizes offered as part of the first global promotion for Guinness. These remarkable experiences were created as part of the worldwide celebrations to mark Arthur's Day, the anniversary of 250 years since Arthur Guinness signed the 9,000-year lease on the St. James's Gate Brewery in Dublin.
Guinness is owned by Diageo, the world's leading premium drinks business. With its global vision, and local marketing focus, Diageo brings to consumers an outstanding collection of beverage alcohol brands across the spirits, wine and beer categories including Smirnoff, Guinness, Red Stripe Beer, Johnnie Walker, Baileys, J&B, Cuervo, Captain Morgan and Tanqueray, and Beaulieu Vineyard and Sterling Vineyards wines. Diageo trades in some 180 countries around the world.
UNDERWATER BAR / RESTAURANT MAIN DIMENSIONS.
| | |
| --- | --- |
| Length | 12.0 m |
| Width | 2.4 m |
| Height to deck | 2.65 m |
| Draft on surface | 2.0 m |
| Displacement | 35 tons |
| Max. operating depth | 100 m |
| Drop weight | 800 kg |
| Payload capacity | 1750 kg |
| Typical Passenger capacity | 12 |
| Typical crew | 2 |
Guests diving in the Underwater Bar, require no previous experience or training. Everyone can do it, young and old, as the complex is maintained at one atmosphere pressure at all times. Contact us for full technical details and availability.
Exciting Advantages for the Operator:
The Underwater Bar offers excellent marketing opportunities for drinks branding, sponsorship, and promotions. Any drink brand (beer, cola, vodka) can have their product or banner placed on top of the Underwater Bar. Producing high profile marketing.
Fantastic marketing tool, with potential to attract corporate sponsorship from a wide range of drink manufacturers. The top of the underwater Bar can be shaped as a beer mug, bottle of wine or whiskey, martini cocktail glass, or whatever is requested by the operator.
No regular cranage or surface handling equipment is required. The complex is self-contained and can operate independently from shore-based facilities if necessary. Surface control and operational assistance requires only a small support boat. The overall operational costs are low, owing to good design features and quality engineering.
The size and design of the complex allows diving operations to continue safely at most times. This gives high system efficiency.
Easy access for maintenance and servicing. All important equipment is located within the main compartments of the complex, and can be easily maintained while on the surface or submerged. This results in very high system reliability.
Great fun and a unique experience for all the guests.
Underwater Bar Animation.
Click on the following link to view a generic animation of the underwater bar in operation.
http://www.youtube.com/watch?v=SMzLP25Gpes
UNDERWATER SCOOTERS (for sale).
This affordable two-man Underwater Scooter is the latest high tech submersible to join the marine leisure market. Ideal for super-yacht owners, diving enthusiasts, tourist resort operators, and dive operators. This scooter is perfectly suited for couples to explore the underwater world in safety and comfort.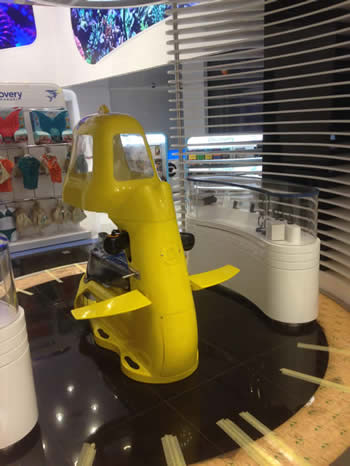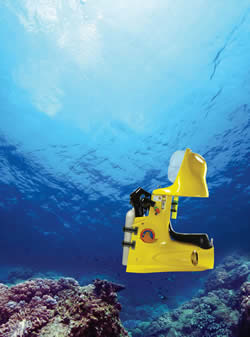 The scooter helmet is nicely integrated into the scooters body. Each rider's head goes inside an air chamber within the helmet, which is constantly supplied with air from scuba tanks lasting seventy minutes, which are attached to the front body of the scooter. The helmet features a flat fog resistant glass, 99% distortion free giving a clear underwater view.

These scooters are sleek and lightweight (160 lbs.).

Each scooter is powered by two electric motors, one for forward movement and another for vertical movement, providing precise control, manoeuvrability and safety. The controls operate like your typical motorbike. Just turn the handlebars for direction and push the batons for speed and depth. Pressure and depth gauges are provided on the control bar.

With a maximum speed of 3 mph and an operating depth of up to 12 meters, riders have access to shallow reefs and caves. The motors run by a rechargeable battery lasting up to 2.5 hours.

Novices can master the controls in the training course that can be completed in just a few minutes. Those who are not strong swimmers or who have minor disabilities can still ride the bike and can wear glasses or contact lenses without difficulty.
No diving certification is needed, no experience is required.
A line attached to a marker buoy keeps the scooter safely tethered to the world above.
CONTACT US TODAY TO BUY YOUR UNDERWATER SCOOTER.
Email: sales@SilvercrestSubmarines.com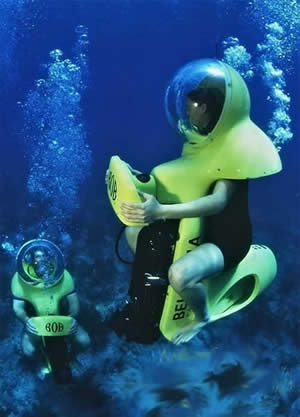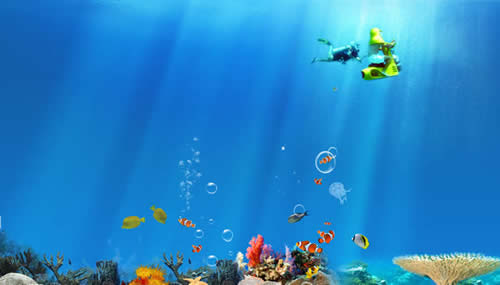 This underwater scooter is a one person, 2 knot, submersible designed to enable certified and non-certified divers to cruse effortlessly underwater. This unique vehicle combines a bubble helmet, seat, tank and thruster inside a rotationally molded, impact resistance, polyethylene body.
The operator sits in a comfortable upright position with their head in a bubble of air. A button on the steering wheel operates the thruster under the seat. Simply pushing the button and steering enables the operator to drive around in comfort and safety underwater.
Cruise effortlessly underwater without the need to wear cumbersome dive equipment. Simple submerge underwater, put your head into the air bubble and swing your leg over the seat. The standard scuba cylinder delivers continuous fresh air into the bubble for over one hour. Depth is controlled by inflating or deflating the internal air bladder (the same as scuba diving). A surface float is used to set the maximum dive depth and protect the reef.
Height: 140 cm
Width: 61 cm
Length: 90 cm
Weight: 60 kg

The 12volt thruster, mounted inside a protective cowling, operates for over one hour per charge. The interchangeable scuba cylinder, and 60ah gel cell battery, enable one-hour dive times, and five-minute change-over rates.

Rental Revenues.

These are exciting, fun machines on which anyone aged 10 and upwards can experience the underwater world. You do not need to be able to swim or dive to operate the underwater scooter.
The first tourist operation was set up with ten units, offering sixty people per day a thirty-minute underwater experience for $99 per person. In St Thomas, Carnival Cruiseline offers over 80 people per day a twenty-minute ride for $99 each. In Nassau rides sell for $110 each.

Most tourist operations start with ten scooters and add additional units as needed. Two rides per hour per unit gives the customer a memorable experience, and enough time for the operator to change over the HP air cylinder and battery. Secondary batteries and air cylinders are charged simultaneously.

Additional revenue can be generated through selling camera pictures, videos, T-shirts and merchandise. A custom built vessel for a scooter operation carrying 10 scooters, 20 passengers and 4 crew, is available.
Training programmes for operators, and assistance to set up your new tourist operation on a boat, pontoon or beach, is available on request.
CONTACT US FOR INFORMATION.
Email:

Sales@SilvercrestSubmarines.com
Small Submarines, Used Submarines, and Manned Submersibles for Sale and Charter.
Sub-surface viewing craft (Explorer)
A revolutionary new self-propelled, sub-surface viewing craft that sits 1.2m underwater, below the ocean surface. Explorers are small electrically powered, joy stick controlled, dry cockpit, surface water craft, purpose designed to provide time unlimited, unobstructed, sub surface 360 degree observation of marine life during night or day operations. No specialist dive training is required to use the Explorer, which offers a clear, unobstructed and comfortable view of the undersea world. Ideal for hotels and resorts, super-yacht charters, commercial surveying, marine research, film and broadcast production. Electrically propelled to reduce its impact on marine ecosystems, the highly maneuverable Explorer can be easily controlled by single or dual joystick. It has an all-day operating capacity (7.5 hours operation at full speed) allowing for a full working day underwater, and a truly unique experience for users. Explorer represents an innovative new form of water transport enabling the public to enjoy the undersea world without the need for any training or the inconvenience of scuba gear, getting wet or taking risks. Just push the joy-stick and go in any direction, with a 360 degree, turn on its own axis capability.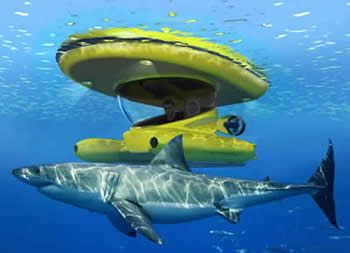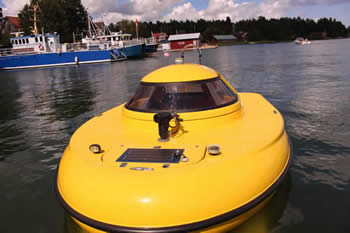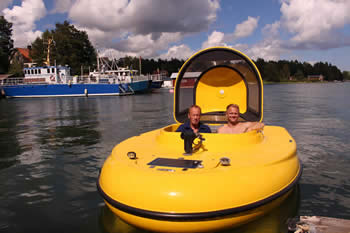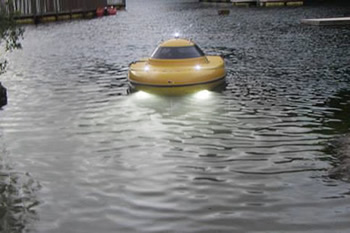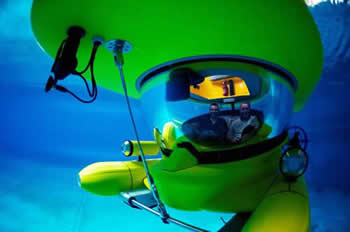 Perry Submarine for sale.
A one-atmosphere and diver lockout submersible designed for all commercial activities, scientific research, underwater filming, search and salvage.
Crew three/ four. Operational Depth 1000ft. Weight eight tons.
One large front viewport, plus six small conning tower viewports.
Fitted with external lighting, manipulator arm, communications and sonar system.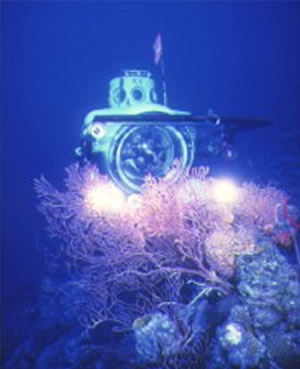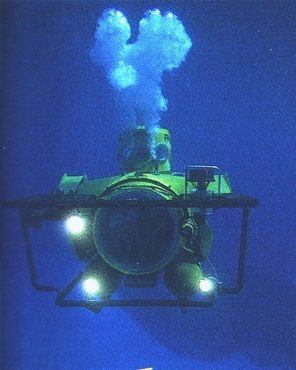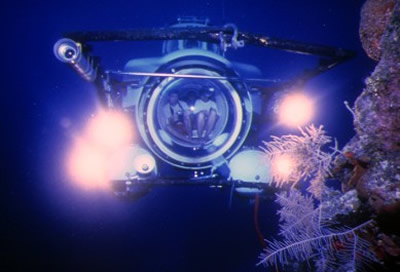 DRY TRANSFER- DIVER LOCKOUT SUBMERSIBLE (DSRV) FOR SALE.
General Specifications:
Length 7,7 m
Breadth 2,4 m
Height 2,6 m
Weight 14,9 tons
Max speed 3 knots
Max diving depth 300 m
Power supply 2 x battery packs of 20 cells, 120V, 248Ah.
2 x batteries of 4 cells, 24V, 248Ah
1 x emergency battery of 2 cells, 24V, 62Ah
Main propulsion 10kW electric motor (180 degree swivel)
Two Directional thrusters.
Crew depends on the operational mode. 2/3 crew with 2 divers (DLO mode), or multi passenger in dry transfer mode.
The submarine was built by Perry and is classified by ABS.
The pressure hull is constructed by low temperature service steel, with internal ribs and an internal diameter of 1.372 m.
The battery pods are pressure sealed, cylindrical and have a diameter of 50 cm. They are equipped with removable ends, for easy entrance to the batteries.
The submarine has one entrance hatch in the tower, and three entrance hatches for the diver-lockout/ dry transfer compartment.
The front pressure hull has a spherical segment window of 89cm. Eight viewports of 20 cm diameter are equally spaced around the conning tower, with one upward looking port in the top centre of the hatch. All viewports are made of acrylic plastic.
The pressure hull has several blank multi-pen plates for spare services
All external equipment is protected by heavy-duty fender rails.
BUOYANCY
Four external ballast tanks with a total capacity of 363lts for buoyancy and for the surface stability.
TRIM
An internal variable ballast tank system is provided. The forward tank has a capacity of 91,5lts, the after tank 228,5lts. The system uses an internal high-pressure ballast pump, with appropriate valving.
AIR
A high-pressure air system of 21 m3 @ 200 bar in two externally mounted cylinders, for blowing the Ballast tanks, and BIBS emergency breathing system.
VENTILATION
A one-atmospheric environment that constantly monitors CO2 and O2 percentages. Excess C02 is scrubbed with soda sorb or sofnlyme, by use of an electric powered scrubber unit. Oxygen is supplied by 4 x 50lt oxygen cylinders.
HYDRAULIC
An electric powered hydraulic pump supplies the actuation/control of the stern rudder, dive planes, and three legs. The manipulator is controlled by an external power pack.
CONTROL
The pilot station has a portable control box with joystick, for controlling all thrusters. Also controls for power supply and the monitoring, in both normal as emergency situations.
STANDARD EQUIPMENT
Navigation: compass, sonar, echo sounder, and depth gauges.
Communication: Mesotech underwater telephones (27kz), and VHF radio for surface use and diving.
External lighting; 4 x 100 watt Quartz halogen lamps.
Cameras: The cameras are used for monitoring and observation of the submersible during dry transfer operations. An adjustable camera on a pan and tilt unit is used for underwater video inspections.
Manipulator: Hydraulic controlled multi-functional manipulators each with five functions.
SAFETY FEATURES
In case of emergency the two battery pods can be ejected to obtain extra buoyancy.
Each battery pod has a water sensor to detect leaks.
Built in emergency breathing system (BIBS) with masks and life vests.
3 x fire extinguishers (with one in the DLOC).
Battery powered strobe light.
DRY TRANSFER.
The dry transfer arrangement can also be easily modified for submarine rescue operations.
TRAINING.
A crew training programme will be arranged at a suitable location.
SILVERCREST SUBMARINES
Email: sales@SilvercrestSubmarines.com
Three-man Submersible (Yellow Submarine) for sale.
Pilot Training Course Arranged.
A small lightweight submersible designed for a wide range of one-atmosphere operations. This submarine is the ideal choice for Super-yacht owners, seeking a small easy to operate submersible. The key words in the design have been performance, passenger comfort and affordable. The submarine is easily transported by road, sea and airfreight. Crew: three. Operational Depth: 300ft (100m), with option of upgrade to 1000ft. Weight: 4 tons. Large front viewport, plus four conning tower viewports. External lighting, communications and optional sonar system. This is a small two or three-man submarine that is ideal for leisure activities, and especially suitable for yacht-based operations. Very easy to operate and maintain.
Three view ports * Four DC thrusters * Semiconductor controllers * 24V dual battery systems * Water hard ballast system * Double soft ballast system * Drop weight system * Dual pressure air systems * Dual oxygen systems * Carbon dioxide level monitor * Oxygen level monitor * Carbon dioxide scrubber * VHF Radio * Ultrasonic underwater telephone * Alarm and insulation monitoring systems * Echo sounder * Mechanical and electronic depth meters * Electronic compass * Trim and heel indicators * Navigation light * External halogen lights * Emergency breathing masks * Fire fighting system * Xenon flasher * Service and transport container with battery charger, HP air compressor * Complete documentation.
Pilot training available by request.
Main Dimensions.
Length overall : 3.65 m
Width overall : 2.1 m
Height overall : 2.5 m
Draft : 1.9 m
Hull diameter : 1.9 m
Dry weight : 4.75 metric tons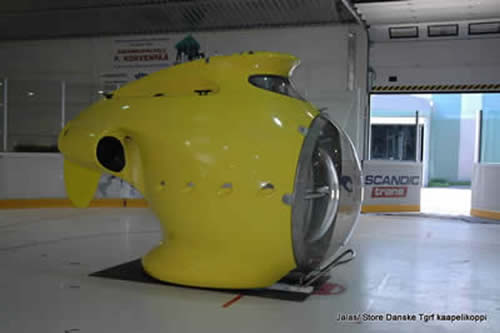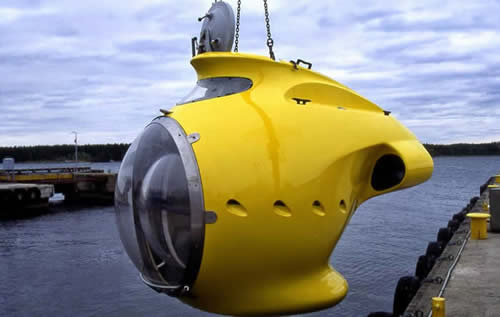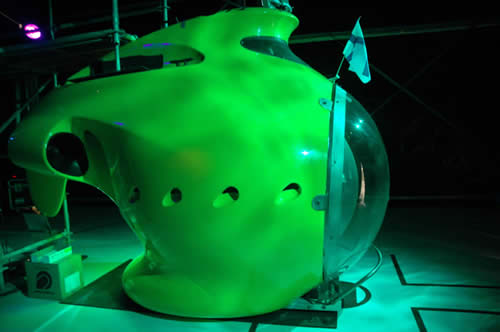 (Com-Sub).
A small two-man submarine built in Europe to a very high technical standard that offers a relatively spacious interior, and a full range of safety features. Ideal for yacht-based activities, underwater filming, scientific research, and for private buyers.
Operating depth: 200m (600ft). Dry weight: 4 tons. Viewports: 4 x flat acrylic (340mm) forward looking, 4 x conning tower viewports (120mm), 1 x hatch viewport (90mm). External Lights, Compass, Echo sounder, and communications.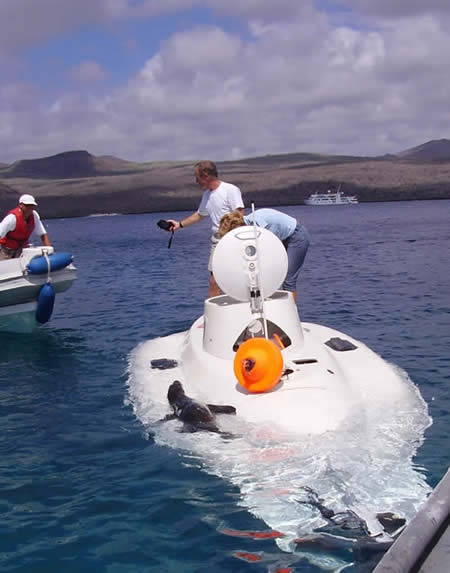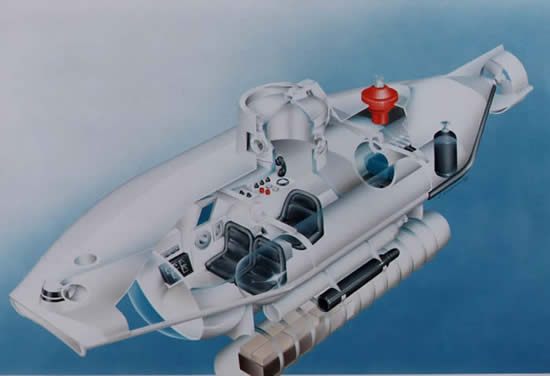 Please contact us to discuss your submarine charter requirements. We can offer a range of small submersibles and submarines.
All submarines are sold " as is where is " unless agreed otherwise. These submarines are secondhand, and generally will be dive ready after a routine maintenance programme. Our prices offer the purchaser a substantial saving over the cost of a new build.
Silvercrest can arrange Submarine Maintenance, and Pilot Training courses for all purchasers.
New build submarines are also available, please contact us to discuss your requirements.
Submarine Refit and Certification programmes can also be provided.
Pilot training can be arranged at your favourite dive site.
SPECIAL FORCES - SDV.
Designed and manufactured for military special forces, the SPECIAL FORCES SDV is a hybrid Surface and Underwater Swimmer Delivery Vehicle capable of 35kts on the surface , and 5kts underwater.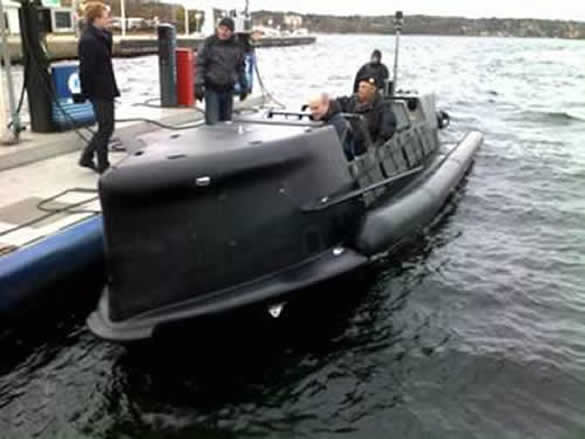 The SPECIAL FORCES-SDV is designed and manufactured as an advanced high speed pleasure craft for 4 to 6 SF divers. The main design and construction provides the following modes of operation:
Surface mode at high speed.
Semi-submerged mode at low speed.
Submerged mode at low speed.
Parked on the sea floor.
The power propulsion system is based on a water-cooled Italian MTU 270kW (3650hp) diesel engine with a water jet Rolls-Royse propulsion system for surface and semi-submerged modes.
The underwater system comprises advanced thrusters powered by 12V Lithium Ferro batteries. The LIFe battery system has an integrated BMS (battery monitoring system). An extra battery pod may be added for longer submerged endurance.
An air-compressed system provides the craft with air for the underwater mode. A hydraulic system provides the craft with hydraulic power for subsystems like security valves and telescopic operation of sensor mast and snorkel.
The Steering-Information-Navigation-Communication System (SINC) is an advanced aid to the pilot and co-pilot in order to operate the craft in all modes. The control functions of the craft are governed by a digital Programmable Logic Controller (PLC) and a Canbus system.
The BIBS system provides the divers with an emergency breathing capacity.
The craft is equipped with strong points for launching and recovering by crane and may also be operated by an onboard sledge.
Maximum speed on surface 35 knots.
Speed at full payload- cruising on surface 25 knots.
semi-submerged 5 knots, and submerged 5 knots.
Range- on surface or semi-submerged 150 Nm.
Range submerged 8 Nm.
Range submerged with extra battery pack 15 Nm.
Operating depth with divers 40 m.
Payload (maximum incl. fuel) 500 kg.
Max recommended sea state for operation 3.
Dimensions:
Length 8.0m.
Beam 2.0m.
Height to top of cabin 1.3m
Max height to top of activated snorkel and sensor mast 2.3m
Lightweight 2,800 kg
Standard payload Crew and cargo 500 kg, Diesel fuel 250 kg.
Crew (maximum) 4-6 divers.
Diesel engine 235kW or 120kW. Propulsion system Water jet or shaft drive.
Diesel fuel capacity 300 litres.
Underwater propulsion system Prop or Water jet.
Battery pack (basic system) LIFe (12,5kWh).
Compressed Air capacity 1x50 litres + 2x4 litres@ 300 bars.
BIBS 4-6 x 6,7 litres @ 300 bars.
In the SPECIAL FORCES Carrier mode, the SDV is a surface and sub-surface vessel designed to transport divers with equipment (Special Operations or EOD Operations), autonomous operated vehicles (MCM Operations), remotely operated weapon station guided by electro-optical sensors Fire Support) or other required systems. The SPECIAL FORCES SDV operates in a number of different roles.
on surface at high speed,30+ knots
semi-submerged with a limited signature, diesel or electrical propulsion
submerged in a fully flooded state propelled by electrical thrusters powered by a sophisticated battery
parked on the sea floor
The SPECIAL FORCES Carrier is the basic underwater vehicle and operates with a pilot and a co-pilot. Three different modules installed on the Carrier provide the different applications required:
The SPECIAL FORCES SDV – Swimmer Delivery Vehicle for SOP missions
The SPECIAL FORCES AUV – Autonomous Under- water Vehicle for MCM missions.
The SPECIAL FORCES RWSV – Remote Weapon Station Vehicle for Fire Support.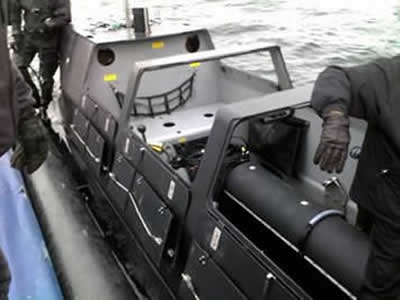 TRIALS AND TRAINING:
A three-week training package for operators and maintainers is provided.
Contact: SILVERCREST SUBMARINES.
Email: sales@SilvercrestSubmarines.com
LEISURE -SDV.
The Leisure--SDV is designed and manufactured as an advanced high speed pleasure craft for 4 to 6 scuba divers. The craft is a lightweight version, slightly shorter and with all basic features in order to comply with advanced requirements within a limited budget.
Originally designed and manufactured for military special forces, the Leisure-SDV is a hybrid Surface and Underwater Swimmer Delivery Vehicle capable of 35kts on the surface , and 5kts underwater.
The craft is available in a range of colour schemes, and can be offered in a number of different external designs. Making this a very exciting craft for super yacht owners, and tourist resort operators.
The main design and construction provides the following modes of operation:
Surface mode at high speed.
Semi-submerged mode at low speed.
Submerged mode at low speed.
Parked on the sea floor.
Contact: SILVERCREST SUBMARINES.
Email: sales@SilvercrestSubmarines.com
(Spider ADS)
These versatile deep diving suits (or one-man submarines) are an advanced design, one-man ADS (Atmospheric Diving Suit).. The suits are lightweight (600kg), and can be rapidly mobilized to any offshore dive site, to complete a wide range of underwater observation and manipulative tasks. Operating Depth to 1000ft (300m) with no decompression, as these suits are completely dry and at one atmosphere pressure at all times. Crew: one. Weight: 1 ton. Large domed viewport, two articulating arms, external lights, continuous video and communications with the surface. Ideal for underwater observation and inspection tasks. Also an exciting one-man submersible for operations off your super yacht, or for adventure dives at your tourist resort.
Two - man, 1000 ft Depth Submersibles for charter.
Specifications.
ABS +1 Manned Submersible. Cayman Registry of Shipping.
450 lbs payload.
1000 ft depth.
3 kt Speed.
2 crew.
132 lbs variable ballast.
3080 lbs main ballast.
5kW 24v battery.
12.6kW 120v battery.
2 x 2KW main thrusters.
2x 2KW vertrans thrusters.
10 hours operation.
PLC based touch screen control.
4 forward, 1 rear, 1 down, LED external lights.
Oxygen with CO2 scrubber life support.
10 hours main oxygen at 200 bar.
96 hours reserve oxygen at 200 bar.
2 x 17LT main air at 200 bar.
2 x 17LT reserve air at 200 bar.
3.2m length.
2.5m width.
1.85m height.
3100kg weight.
500mm hatch I.D.
Manipulator Arm.
Support Equipment.
Blueview 2D multibeam sonar with Proviewer.
TrackLink 1500 multiple target Integrated USBL Acoustic Tracking and Communication Systems.
Quick battery charge system.
OTS acoustic communications.
28 ft. Protector RIB. surface support vessel with hull mounted transducers integrated communications and tracking with towing capabilities.
12 ft. Novurania chase boat for crew transfers, launch and recovery.
ThREE MAN support & maintenance crew.
YP45 compressor and boost pump for air and oxygen.
HP air and oxygen banks.
Email: sales@SilvercrestSubmarines.com
Tel: +44 1285 760620
See our Company News Page for underwater equipment that we now offer for sale.
SUBMARINE ESCAPE SUITS.
UNDERWATER COMMUNICATIONS.
SONAR SYSTEMS.
SUBSEA MOTORS.
SUBMERSIBLE MOTORS.
ROV MOTORS.
SUBMERSIBLE THRSUSTER.
SUBMARINE ACRYLIC VIEWPORTS.
Further information available on request.
SILVERCREST SUBMARINES.
Tel: England (+44) 1285.760620
E-mail: sales@SilvercrestSubmarines.co.uk