A multi purpose submersible, designed for one atmosphere operations, diver lockout, dry transfer, and submarine rescue (DSRV). This submersible is in excellent condition and dive ready. Suitable for underwater tourism, scientific research, search and salvage, and a range of military tasks.
Statistics:
Operating Depth: 1200ft (400m).
Crew: six (normal), six (diver lockout operations), twenty-two (DSRV operations).
Weight: 22 tons.
One large front viewport, one large aft viewport, four tower viewports, one lower viewport.
Fitted with external lighting, sonar system, acoustic tracking, communications, manipulator arm, and hydraulic cable cutter.

The DSRV-TAURUS was designed and built to conduct a wide range of underwater tasks, and submarine rescue operations worldwide. This superb deep diving submersible offers a number of unique features.
ONE ATMOSPHERE OPERATIONS
DRY TRANSFER
DIVER LOCKOUT
TWO-TON PAYLOAD
1200FT (400m) WORKING DEPTH
SUBMARINE CREW RESCUE
This submarine was constructed in Canada, by Hyco International, one of the world's leading submarine manufacturers. Following successful diving and certification trials the submarine then supported scientific, commercial and Royal Navy subsea operations offshore Europe, and America. During this initial period DSRV-TAURUS completed 165 dives, supporting a wide range of underwater operations.
Missions included scientific research dives for the University of Southern California. Salvage, inspection, one atmosphere intervention, and diver-lockout operations, to 450ft (150m) in support of subsea construction (North Sea). Dry transfer trials, in support of a subsea manned intervention programme. This programme included thirty dry transfer dives to mate with a test-cap. Eight of these dry transfer missions achieved a successful mate at 1005ft (314m).
Submarine rescue trials and exercises with the Royal Navy. DSRV-TAURUS mated with an "Oberon" Class submarine offshore Kyle, Scotland (zero degree mate). Also completed a number of mates with a simulated target, one of which was at 45-degrees. The exercises were a great success. It should be noted that the use of a 15-degree adaptor wedge (fitted to the DSRV-TAURUS mating skirt) permits a 60-degree dry transfer intervention during a submarine rescue mission.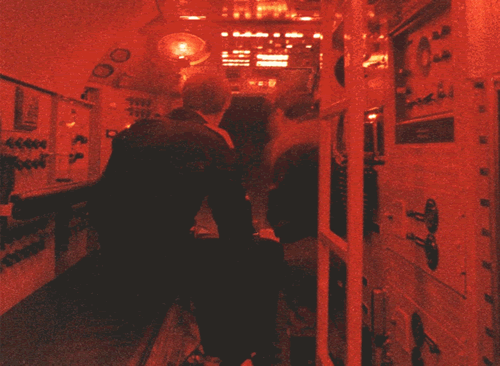 Following the successful completion of these diving programmes, TAURUS spent a period of inactivity (at a facility in Scotland). Subsequently the submersible was purchased, and refitted by Silvercrest Submarines (a British Company that specialises in deep diving submersible operations worldwide). During the last two years TAURUS has completed a further thousand deep dives. Scientific research, educational tourism in Loch Ness (Scotland), underwater filming in support of documentary and television projects. Navy trials, as part of the current submarine rescue programme. Search and Salvage. Subsea inspections. Scientific Research in the Caribbean and trials and training dives off Southern Africa.
SPECIFICATIONS.
Weight 22 tons
Length 34 feet
Beam 13 feet (Reducing to 9 feet)
Height 12 feet (Reducing to 9 feet)
Operating Depth 1200 feet (400m)
Speed 3 knots maximum
Payload 4,000 lbs
Crew One Pilot + Five Passengers (One Atmosphere Operations)
Three Crew + Three Divers (Diver Lockout Operations)
Two Crew + Twenty Passengers (DSRV Operations)
Certification American Bureau of Shipping
Insurance Lloyds of London
Viewing One 36 inch Front Viewport
One 36-inch Aft Viewport
Five Conning Tower Viewports
One Lower Viewport
Lighting 6 x 500w External Lights (Forward)
2 x 500w External Lights (Aft)
Propulsion 4 x 5HP Electric Thrusters
Power Sources Electric Batteries)
120vdc (950AH), 24vdc (300AH).
12 vdc (Inverter)
110vac (Inverter)
Life Support 1008 Man Hours
Oxygen, Soda Sorb, Rations, Water
Ballast Water, Air.
Gas Capacity 12,000cu.ft. Air or Mix
6,000 cu.ft. Air
Drop Weight 1,000 lbs (Moveable for Trim Angle)
Safety Life Support Systems to ABS, and MSA Standards
Dive Duration Eight hours (Normal)
Ninety-six hours minimum (Life support).
External Equipment 1 x Seven Function Manipulator (Hydraulic)
1 x Hydraulic Cable Cutter
Still/video cameras as required
Scientific equipment as required.
Navigation Sonar, Fluxgate Compass, Magnetic Compass, Echo Sounder,
Depth Gauges, Acoustic Tracking, Xenon Beacon
Surface Marker Buoy
Communications VHF (All Marine Channels),
UQC (10khz, 27khz, 37.5khz).
Pinger/Receiver
Emergency Food and Water
Emergency Lighting
Emergency Breathing System (BIBS)
Fire Extinguishers
First Aid Kit
Life Jackets
TAURUS is immediately available for worldwide underwater operations. To obtain further information, please contact:
SILVERCREST SUBMARINES.
Tel: England (+44) 1285.760620.