.
MORE SUBMARINES and SMALL SUBMERSIBLES FOR SALE and CHARTER.
PERSONAL SUBMARINES, and PRIVATE SUBMARINES.
We have a number of submarines available for short term hire and long term charter (with experienced crews), that are ideal for scientific research projects, underwater filming, TV advertisements, boat shows, exhibitions, corporate incentive programmes, and subsea salvage operations.
Call us at anytime to discuss your underwater plans, we are always very pleased to offer ideas and suggestions.
NEW SUBMARINES FOR SALE.
Need a large multi passenger submarine for underwater tourism (T-sub), or a small submarine for your super yacht, then please contact us. We can offer new submarines for sale that range in size from from two-man, to forty-passenger. These can be manufactured to an existing design, or build to suit your individual requirements. Delivery will be approximately eighteen months from order.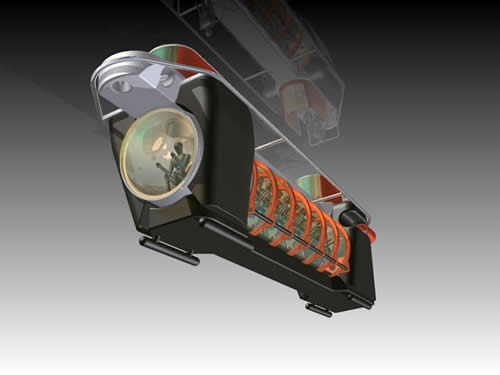 IC ECO –SUB.
The Silvercrest ECO-SUB is a 24-passenger carrying submersible designed to carry occupants to a depth of 100m. Its acrylic viewport configuration offers all passengers a superb panoramic view of the underwater world. While a large access hatch, and the wide internal circulation space, makes this an ideal submersible for disabled passengers. This submersible has been designed to minimise the risks to the environment by the careful choice of its components and configuration, allowing its use in marine park areas where the underwater ecology is sensitive to disturbance. This is a purpose built acrylic tourist submarine, designed for passenger comfort and safety. The submarine provides a panoramic view of the underwater world for all passengers, through large diameter acrylic viewports. The submarine operates to a maximum depth of 300 feet (100m) with twenty-four (24) passengers and two
crewmembers. External lighting, VHF surface communications, and through-water communications, are fitted as standard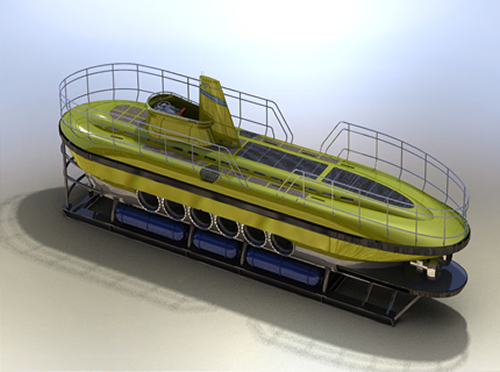 SUBMARINES FOR POSSIBLE CHARTER and for SALE.
Our charter rates are very competitive, and we can offer a wide selection of small submersibles and submarines.
ME
MINI SEMI-SUBMERSIBLE SUBMARINE
This is the world's first Compact Semi Submarine, with cutting-edge design and technology. A new breed of recreational semi-submarine that is compact, personal, and gives pure underwater driving enjoyment. Step down into an underwater observatory and simply drive. Navigate where you want to go. It's safe, easy and comfortable. Undersea discovery is in your control.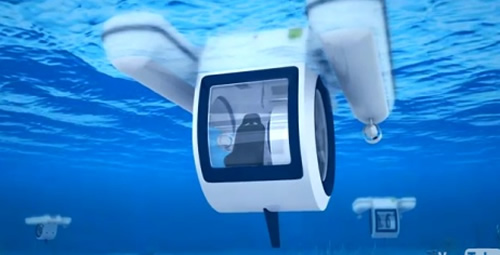 MINI SEMI-SUBMERSIBLE SUBMARINES are the next generation of underwater leisure craft. It is neither submarine nor glass bottom boat. The innovative design combines these two technologies to give you an experience that surpasses both. Beneath ample deck space is an underwater glass observatory equipped with state-of-the-art technology. Smooth driving performance is coupled with a clear view of undersea life. 100% electric with zero emissions, the semi-sub is equipped with a brushless DC electric motor that is quiet and powerful.
You can change the direction of MINI SEMI-SUBMERSIBLE SUBMARINE by pressing the forward/backward switch located on the console box. Digital Foot Pedal to control the speed of the MINI SEMI-SUBMERSIBLE SUBMARINE in the same way you do with cars. Simply press down on the digital foot pedal in order to accelerate.
The MINI SEMI-SUBMERSIBLE SUBMARINE console box is equipped with a high-resolution TFT-LCD monitor. You can view and monitor high quality
images at all times.
The Digital LED Battery Gauge shows the current remaining amount of battery.
Smart Charging System (PLUG-IN AT DOCK).
Digital Depth Sounder
VHF Marine Two-way Radio
DIUM TOURIST SUBMARINE.
24-PASSENGER TOURIST SUBMARINE (T-SUB).
Immediately available for sale or long term charter
Twenty four passenger tourist submarine, designed for the underwater leisure market. Operating Depth: 300ft (100m). Weight: 35 tons. Crew: Two pilots and twenty-four passengers. Large viewports on all sides. Air conditioning, external lights, communications, video and sonar.
3 -MAN SUBMERSIBLE (Yellow Submarine).
W SUBMARINE.
A small lightweight submersible designed for a wide range of one-atmosphere operations. This submarine is the ideal choice for Super-yacht owners, seeking a small easy to operate submersible. The key words in the design have been performance, passenger comfort and affordable. The submarine is easily transported by road, sea and airfreight. Crew: three. Operational Depth: 300ft (100m), with option of upgrade to 1000ft. Weight: 4 tons. Large front viewport, plus four conning tower viewports. External lighting, communications and sonar system (optional).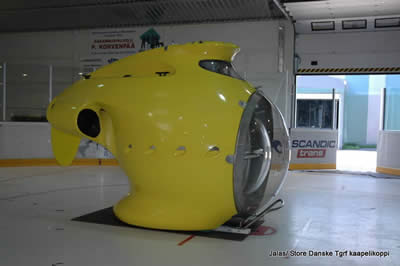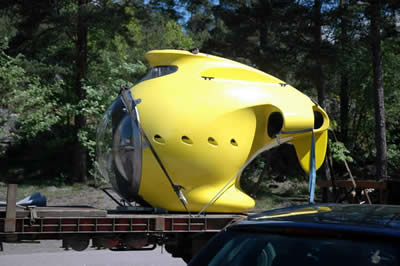 ADVENTURER SUBMARINE.
ADVENTURER SUBMARINE.
Adventurer three/four man dry ambient submarine for sale. This is a refurbished sub, with lithium ion batteries instead of the lead acid, plus an upgrade on the ballast valves. Operating depth 33ft. Max depth 140ft (but under no deco dive limits between 33 and 140ft). LOA: 6.6 meters, Beam: 2.40 m, Overall height: 2.50 m. Hull thickness: 12mm. Fiberglass reinforced plastic, gelcoat finish. Panoramic clear acrylic hatches. 4 x horizontal electric thrusters. 4 x vertical thrusters. Air conditioning Unit, 5,000 BTUs (Optional). Depth sounder, dive computer, sonar screen, GPS navigation system, 2 x color cameras, VHF radio. Interior: Marine Vinyl, Cushion seats.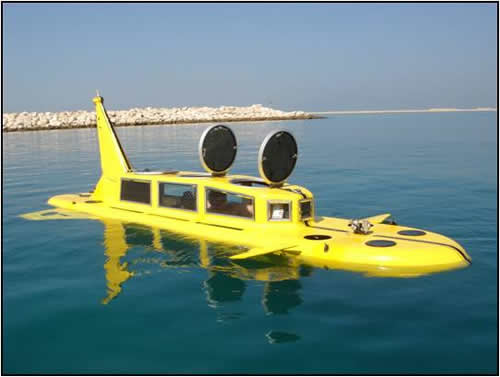 COMSUB SUBMARINE.
The two-man ComSub with a diving depth of 600ft (200m), is a lightweight mini-sub that is easily transported by road and sea to anywhere in the world. This submarine is ideal for a wide range of activities, including underwater filming, scientific research, and subsea exploration. The ComSub two-man submarine was built in Europe to a very high technical standard that offers a relatively spacious interior, and a full range of safety features. Ideal for yacht-based activities, underwater filming, scientific research, and for corporate activities. Operating depth: 200m (600ft). Dry weight: 4tons. Viewports: 4 x flat acrylic (340mm) forward looking, 4 x conning tower (120mm), 1 x hatch viewport (90mm). External Lights, Compass, Sonar, Echo sounder, and communications.
PERRY SUBMERSIBLE.
The Perry Submersible has a diving depth of 1000ft (300m) and will carry a pilot and two or three passengers. A one-atmosphere and diver lockout submersible designed for all commercial activities, scientific research, underwater filming, search and salvage. Crew: three. Operational Depth: 1000ft. Weight: 8 tons. One large front viewport, plus six small conning tower viewports. Fitted with external lighting, manipulator arm, communications and sonar system.
Russian Submarine for Charter.
A Russian Projektu-613 class submarine, NATO code named "Whiskey". Built during 1956-1957 as a Soviet Navy hunter/killer. A total of 256 Whiskey class submarines were built at nine different shipyards in the Soviet Union. Length: 75.2m. Beam: 6.3m. Draft: 3m fore, 4.8m aft. Displacement: 1050 tons surfaced, 1350 tons submerged. When in service, the sub had a crew of 56 on board. One shift sleeping and one on duty. When sailing, the vessel could stay submerged for three days. The submarine is divided into seven watertight sections: Forward torpedo room, living areas/ battery room, aft torpedo room/living quarters, control room/living quarters/galley and engine/ battery room. The crew mess has about 40 table-seats. All areas can be used by the general public.
This submarine is the ideal venue for film producers, corporate entertainment, parties, weddings, dances, and special events.
MORZH SUBMERSIBLE.
A one-atmosphere submersible designed for all commercial activities, scientific research, underwater filming, search and salvage. Crew: two or three. Operational Depth: 85m. Weight: 2.8 tons. Length 4,45 m. Width 1,95 m. Height 2,25 m. Reserve of energy: 5 hours. Life support: 72 hour. Speed: 2,5 knots. Communications: VHF radio and underwater telephone. 2 x compasses, depth sensor, echo-sounder, pinger, flash-strobe. External equipment includes manipulator (6 function), Box hydraulic for samples (specimens), Scissors (hydraulic), and 4 x external lights. Support equipment includes a lifting-frame with beam, and three phase electric winch (5ton SWL), maintenance/storage workshop. 120 cans with regeneration plates ( one can - 64 human/hour life support), full technical documentation.
L-500 Submarine.
A Diesel - Electric Research Submarine with an operating depth of 500 meters (1500ft). Crew 3. Built 2000. Weight 9.3 tons. Main viewport Acrylic diameter 1450 mm. Conning tower Acrylic diameter 540 mm. Emergency buoy. Propulsion on surface KPM-Lombardini 24 Kw (3600 rpm). Propulsion subsea 1 x 8Kw electric motor; 4 x 2.2Kw electric thrusters. Communication 27 KHz + VHF. Navigation DVL, chart plotter, Fluxgate compass, Tritech double frequency Seaking sonar, USBL. Illumination 4 x HMI 400W. Manipulator 5-function. Hydraulically retractable sampling box. The submersible is built to ABS rules. The 150 degrees spherical bow viewport provides a spectacular view of the seabed and surrounding water. Also including Battery chargers. HP Air compressor. Operation and technical manuals. Spares and special tools. Pilot training course. Optional extras include Doppler log, Navquest 300 with fluxgate compass and pressure sensor. Tracklink 1500 HA nav system. HD Panasonic camera HVX-200 internal. HD camera external. Hydraulically retractable sampling box.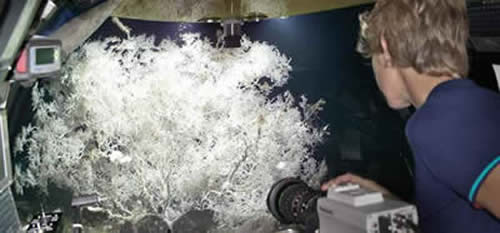 Pioneer Submersible.
PIONEER SUBMERSIBLE FOR SALE.
This is a 1200ft depth-rated submersible capable of performing eight hours of uninterrupted underwater construction and inspection tasks. The standard crew consists of one pilot and one observer. The forward 44-inch diameter acrylic hemispherical viewport provides excellent visibility for both occupants. Propulsion is provided by four (1Hp) 24-volt thrusters capable of producing in excess of 300 lbs. of thrust. The two rudder and two bow plane mounted thrusters provide excellent maneuverability at submerged speeds up to 3 knots. The Pioneer is fitted with a heavy duty 6-function manipulator capable of lifting up to 250lbs at a minimum reach of 7 feet. A second manipulator or task specific tool package can be mounted next to the main manipulator. The Pioneer was designed, built and tested to American Bureau of shipping (ABS) classification, by American Pacific Marine Inc. The Pioneer submersible is in good condition, however the acrylic viewports should be re-tested and possibly replaced or resealed.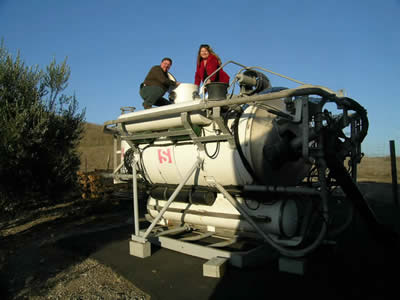 OTHER SUBMARINES FOR SALE and possible CHARTER.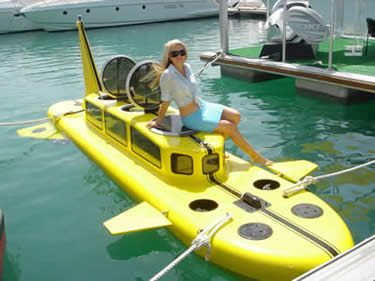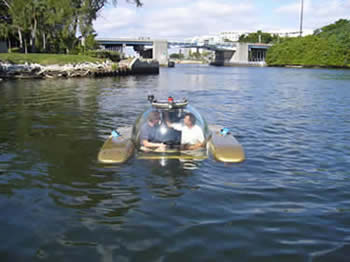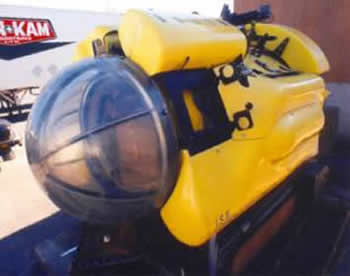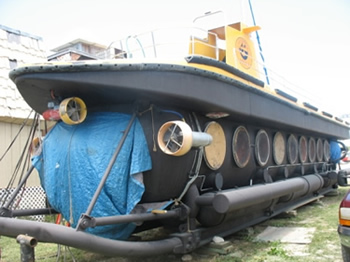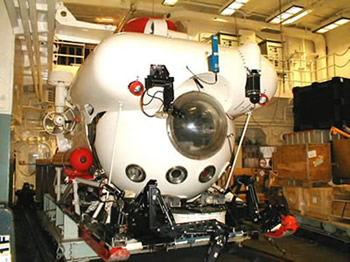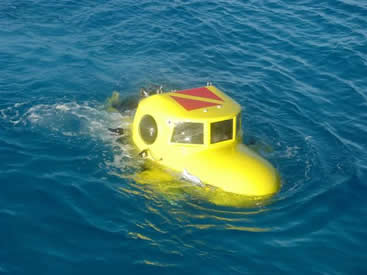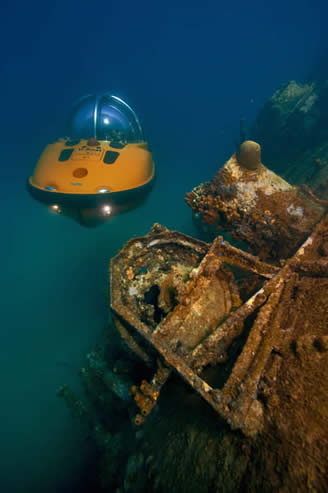 We have a wide range of submarines, tourist submarines, T-subs, small manned submersibles, one-man subs, wet subs, and Rovs available for sale and charter that are not always listed on our website. Please contact us full details and prices.
Please contact us with your requirements and a suggested price range. We will be happy to make suggestions and offer advice.
Silvercrest Submarines.
Tel: England (+44) 1285. 760620
E-mail: sales@SilvercrestSubmarines.com