LARGE TOURIST SUBMARINE INFORMATION.
The Silvercrest ECO-SUB is a 24-passenger carrying submersible designed to carry occupants to a depth of 100m. Its acrylic viewport configuration offers all passengers a superb panoramic view of the underwater world. While a large access hatch, and the wide internal circulation space, makes this an ideal submersible for disabled passengers. This submersible has been designed to minimise the risks to the environment by the careful choice of its components and configuration, allowing its use in marine park areas where the underwater ecology is sensitive to disturbance.
This is a purpose built acrylic tourist submarine, designed for passenger comfort and safety. The submarine provides a panoramic view of the underwater world for all passengers, through large diameter acrylic viewports. The submarine operates to a maximum depth of 300 feet (100m) with twenty-four (24) passengers and two crewmembers. External lighting, VHF surface communications, and through-water communications, are fitted as standard.
The main features of this submarine include: -
Panoramic viewing for all passengers * Disabled passenger facilities * ZEBRA battery system * Water hard ballast system * Soft ballast system * Drop weight system * Dual pressure air systems * Dual oxygen systems * Carbon dioxide level monitors * Oxygen level monitors * Carbon dioxide scrubbers * VHF Radio * Ultrasonic underwater communications * Alarm and insulation resistance monitoring systems * Echo sounder * Mechanical and electronic depth meters * Electronic compass * Trim and heel indicators * Navigation lights * External lights * Emergency breathing masks * Fire fighting and Emergency systems *
The submarine is supported with a service and workshop container (option), together with battery chargers, high-pressure air compressor, oxygen charging facility, and tool kit.
Complete technical documentation.
Pilot and crew training course (by request).
Operational start up and maintenance support programme (by request).
Spare parts package (by request).
Built to Germanischer Lloyd Class for tourist submarine
Price subject to final agreed specification:.
SILVERCREST SUBMARINES.
Tel: England (44) 1285.760620
LARGE TOURIST SUBMARINE FOR SALE.
46-Passenger Tourist Submarine
Introduction.
This is a third generation passenger submarine designed for the tourist market. The submarine will carry 46 passengers and 2 crew on underwater expeditions to a maximum depth of 75m (240ft). The submarine is in excellent condition, and available for sale.
The submarine has been designed for safe and reliable operations, and offers the following features
* Excellent seabed viewing through twenty-two large diameter flat viewports (800mm).
* Two panoramic viewports (3000mm), one each situated in the forward and aft compartments.
* Air-conditioned passenger comfort.
* Easy access through two large diameter hatches.
* Spacious main cabin with a good size central aisle.
* Comfortable seating for all passengers.
* Personal information panel and individual TV-monitor in front of each viewport.
* Good maneuverability, as the submarine has six 15kw thrusters.
* Powerful external lights for exciting night dives.
* Battery capacity for 8 – 10 one-hour dives per day..
This large passenger submarine has been designed and constructed exclusively for underwater tourism. The comfortable and spacious interior offers all passengers a panoramic view of the undersea world. The submarine is in excellent condition, and dive ready subject to a routine inspection and pre-dive routine maintenance programme.
Main Characteristics:
Certification: GL.
No of Passengers: 46
No of Crew: 2
Length: 18.6m
Beam: 4.0m
Height: 5.95m
Displacement: 106 tons
Operating Depth: 75m (240 feet)
Thrusters: 2 x 15kw (Forward)
2 x 10kw (Vertical)
2 x 10kw (Lateral)
Maximum Speed: 3.0 Knots (Forward)
0.5 Knots (Vertical)
0.5 Knots (Lateral)
3.0 Knots (Towing)
Battery System: 240 V system (1000ah)
24 V main system (980ah)
24 V emergency (800ah)
Battery Charging Time: Main 240/24v systems, eight hours.
Water Ballast System: Trim Tanks ( 4 x 1.15 m3 seawater )
Variable Payload ( 4.6 m3 seawater )
ir Ballast: Soft ballast tanks ( 10 x 0.7 m3 seawater )
Air System: Main Air Total (1.4 m3 at 200 bar )
Emergency Air Total ( 3 x 0.05 m3 at 200 bar)
Life Support: All systems have a mission time of eight hours,
with a 72 hour reserve.
Oxygen system: Main and reserve at 200 bar.
C02 absorbent: Soda Sorb.
Air Conditioning: Yes.
Navigation: Compass, Echo Sounder, Depth Meter.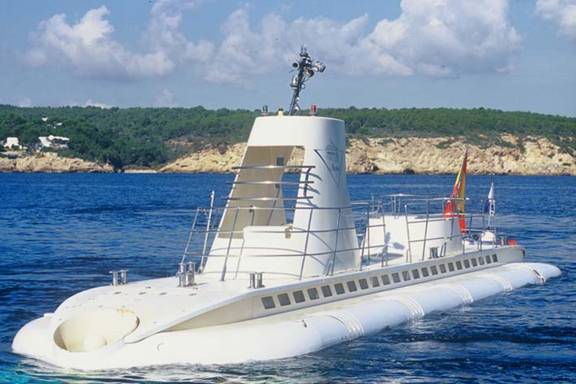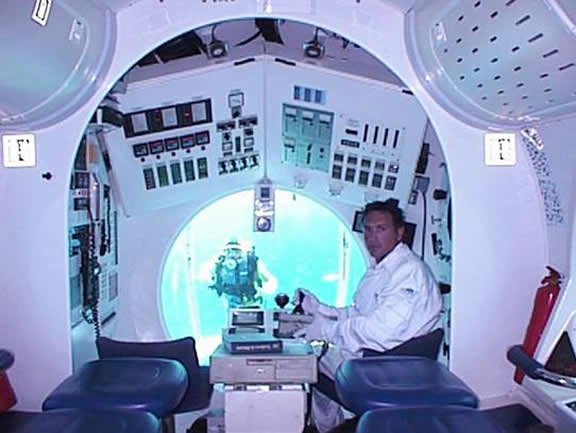 This large multi passenger tourist submarine, has been designed for the underwater leisure market. An excellent opportunity to acquire a purpose built submarine.