SMALL TOURIST SUBMARINES (Ten Passengers).
MERGO T-SUB INFORMATION.
The Mergo tourist submarine (T-Sub) is safe and comfortable, designed for the smaller tourist resort.
This submarine is ideal for start-up operations, and organisations entering the underwater market for the first time.

Operating Depth 300ft (100m).
Crew: One pilot and ten passengers.
Weight: 24 tons.
Large front viewport. Large tower viewport. Ten large individual passenger viewports.
External lights, sonar, acoustic tracking, video and communications.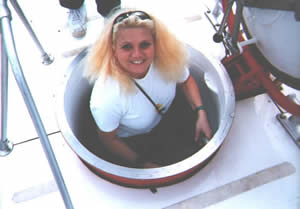 The Mergo tourist submarine (T-Sub) will carry ten passengers and one pilot, to a depth of 100 meters in complete comfort and safety.
The submarine has been extensively tested, and subsequently certified by Det Norske Veritas.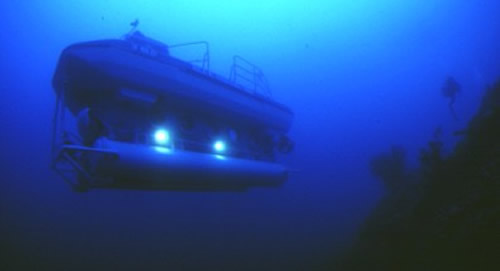 GENERAL DESCRIPTION.
Classification : Survey and Tourist Submarine (T-Sub).
Certification : Det Norske Veritas
Passengers : Ten
Crew : One
Length : 7.65m (10.05m)
Beam : 2.80m
Height : 3.50m
Displacement : 24 ton
Operational Depth : 100m (300ft)
SPEED.
Forward speed (max) : 3.0 knots
Cruise speed : 0.5 knots
Vertical speed : 0.5 knots
Lateral speed : 0.5 knots
Cruise duration : 10 hours minimum
PROPULSION.
Main propulsion : 2 x 11 kw thrusters
Vertical thrusters : 2 x 2.2kw thrusters
Lateral thrusters 2 x 2.2kw thrusters
LIFE SUPPORT.
The life support system is designed for an operational dive time of 10 hours, with eleven people.
Plus 96 hours of emergency reserve.
COMMUNICATIONS.
Communications equipment : 1 x UQC (10kz & 27Kz)
1 x VHF radio
1 x PA / Cassette recorder
EMERGENCY EQUIPMENT.
Emergency Drop Weight : 1 x 500kg (1100 lbs)
Emergency Marker Buoy : 1 x surface marker buoy
Emergency Location Pinger : 1 x Helle pinger (37.5khz)
Lifejackets
Bibs masks
First Aid Kit
Fire Extinguishers
Emergency rations and water for 96 hours
Emergency Alarms :
Water Alarms (hull, pods)
Fire alarm
Emergency Power Supply
SDE-10 SMALL TOURIST SUBMARINE (T-SUB) INFORMATION.
This state of the art tourist submarine is designed to operate to a depth of 50m (150ft) with ten passengers and one pilot.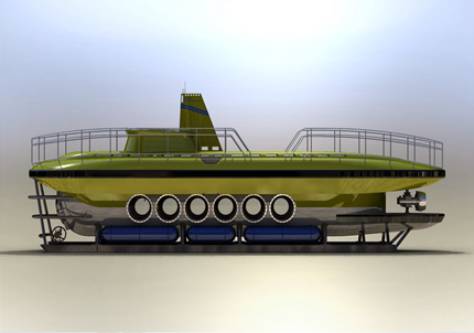 The SDE tourist submarine is designed specifically for tourist underwater sightseeing submarine operations to a depth of 50 meters.
SDE submarines are sleek, powerful and very manouerverable.
Passengers -10 passengers + 1 pilot
Dimensions -Hull Æ2000m x L 10m
-Overall L14m x H3.6m x W3.5m
Draft (surfaced) -2.1m
Freeboard -0.8m to deck – 1.6m to sail coaming
Depth Rating -50m; (100m; 150m Options)
Seating -10 individual passenger seats + 1 pilots seat
Main propulsion -Twin 10kW thrusters
Up/Down propulsion -Twin 5kW thrusters
Steering -Bi-directional fwd and aft lateral thrusters.
Performance -Fwd/Rev - 1.5m/sec
- Up/Down - 0.25m/sec
-Lateral - 0.3m/sec
-Rotate – 1.5 degs / sec (full rotation in 40 secs)
Communications -VHF and Underwater Telephone 10kHz and 27kHz.
Emergency Pinger -37.5 kHz
Strobe Light -SDE-1000-10M Strobe (10 mile range)
Variable Payload -1000kg (4 x 250kg ballast tanks)
Payload adjustment -Free flood and 5 kW electrical ballast pump both directions – air assisted.
Payload performance -Empty to full – 10 minutes (on surface)
-Full to empty - 8 minutes (on surface)
HP Air Storage - 500L x 2 @ 200 BAR Main and Reserve
HP O2 Storage -50L @ 200 BAR Main
-300L @ 200 BAR Reserve
Batteries -240VDC / 500AHrs Main
-24VDC / 500AHrs Main
-24VDC / 120AHrs Emergency
Air-conditioning -24,000BTU split system with overboard keel cooler
Environmental control -Twin chemical CO2 scrubbers with medical O2 bleed system
Environmental monitoring -O2, CO2, H2 electronic monitoring systems. Draeger hand held back-up gas analyzer.
Safety -Pilot operated fire suppression deluge system, hand held extinguishers, passenger personal built in breathing system (BIBS), lifejackets for all persons.
PROPULSION
kW -10kW x 2 and 5kW x 4 @ 50 Hz
Volts -160VAC from inverter with 240VDC main battery
Frequency -0 to 50Hz
Phase -3 Ph
Poles -6 poles
Max Speed -950RPM (Nominal)
Direction -Bi-directional
Depth rating -3000m nominal
Housing -SS316L Stainless Steel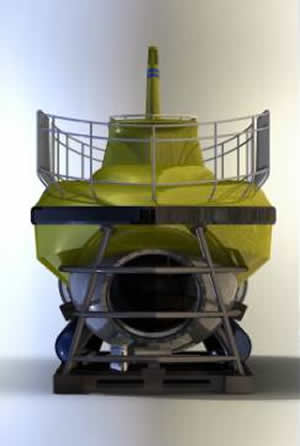 DELIVERY FOR THIS NEW BUILD T-SUB IS 14 MONTHS FROM ORDER.
For additional information, please contact:
SILVERCREST SUBMARINES
Tel: England (+44) 1285.760620.
E-mail: sales@SilvercrestSubmarines.co.uk